Debuting at the 2018 Los Angeles Auto Show, the Audi e-tron® GT concept is set to be the third fully electric vehicle from Audi. It's a performance coupe that relies solely on electric energy, but doesn't compromise the performance you expect from a sports car. In this article, you can learn more about the concept model to get an idea of what you can look forward to when the production model is finally released.
You can browse current e-tron® models in the new vehicle inventory at our Audi dealership in Santa Monica, CA. We also encourage you to look through current lease specials for excellent savings. For more information, don't hesitate to contact Santa Monica Audi by sending a message or calling (888) 904-7353.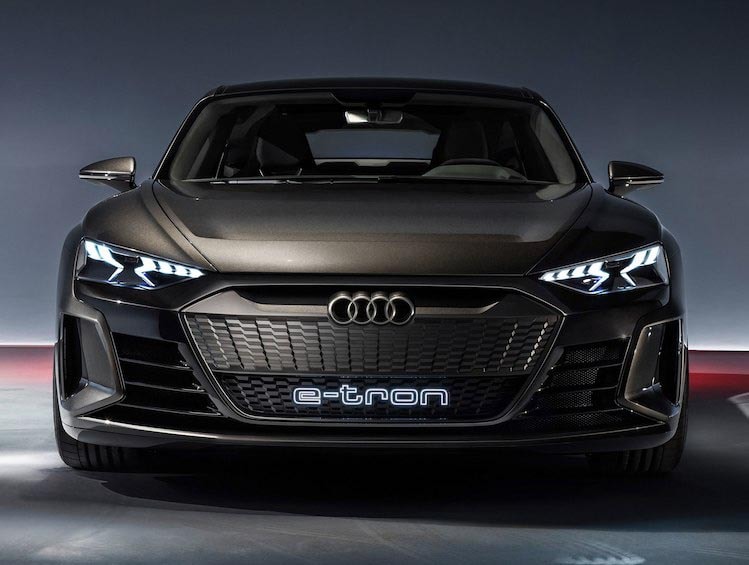 e-tron® GT Concept Volume-Production and Release Date
When can you expect to see the finalized version of the Audi e-tron® GT concept? The volume-production model's slated release date is the end of 2020. It will be transformed into a volume-production model by the performance subsidiary Audi Sport GmbH. Another notable performance element is the vehicle's extremely low center of gravity, which can be likened to the Audi R8. Its low center of gravity means that it provides dynamic and precise handling while all-wheel steering ensures agility and unparalleled directional stability.
e-tron® GT Concept Performance
The Audi e-tron® GT concept produces 434 kW of energy, which equates to 590 HP. Torque is transferred to the wheel via quattro® permanent all-wheel drive with torque vectoring. The GT concept can also accelerate from 0 to 62.1 MPH in just 3.5 seconds with a top speed of 149.1 MPH.
e-tron® GT Concept Body and Exterior Design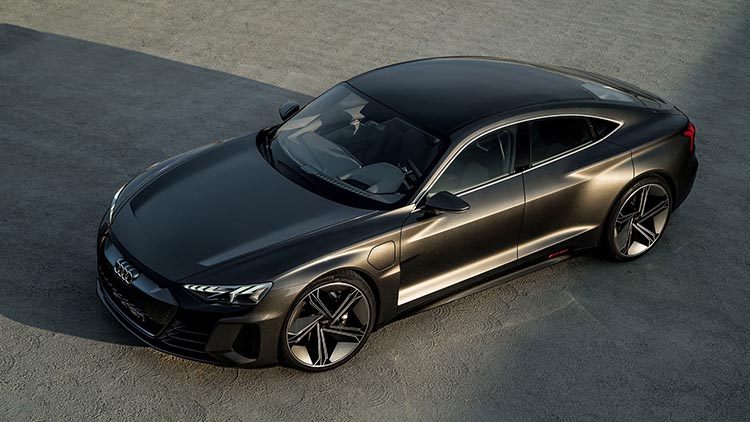 The Audi e-tron® GT concept features a flat, wide, and long wheelbase, proportions of a classic Gran Turismo. It's also developed with multi-material construction, which contributes to its lightweight body. You'll also find a sloping roofline, which echoes Audi Sportback models, and intricately sculpted wheel arches and shoulders. Of course, no Audi model would be complete without the iconic honeycomb patterned Singleframe® grille.
e-tron® GT Concept Interior Design and Features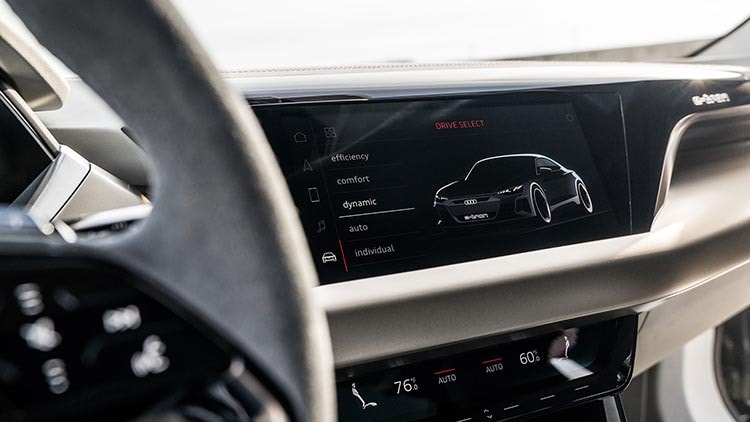 Seating four passengers, the Audi e-tron® GT concept is practical enough for everyday driving. The black-panel finish offers a luxury feel that lights up the entire cabin. Most importantly, the Audi e-tron® GT concept is used with sustainable materials including a fully vegan interior.