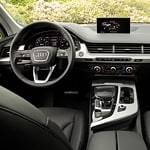 To fully derive the convenient benefits of this digital era, you must have a ride that utilizes the finest electronic amenities available. Currently, the luxurious Audi Q7 is one of the rare midsize SUVs that fit this bill. Here's why the posh vehicle is so popular.
For gadgetry connoisseurs, the illustrious virtual cockpit boasts a regal 12.3" instrument cluster outfitted with comprehensive Google Earth functions. This gorgeous unit is a trendsetting game-changer. While both Sport and Classic settings remain relatively unchanged from previous outings, the innovative Dynamic mode has recently been revamped with intricate analytics and 3D animations.
To address the varied weather conditions of Santa Monica, CA, a mighty four-zone automatic climate control system is installed. This apparatus ensures perfectly customized atmospheres during every excursion. The wondrous potential of these newfound innovations must be documented firsthand. Luckily, this is a fun process that Santa Monica Audi can guide you through during a detailed one-on-one test drive.